A small business owner working with Internet techology for 20+ years and a background in football and athletics.
I'm 42 years old, living in Göteborg on the west coast of Sweden. I'm a former athlete, have been a 100m and 200m runner for over 10 years after playing football for almost 15 years, and a web development professional. I like things like technology and design. Also pretty found of traveling, and I've been to a lot of different parts of the world. I enjoy meeting interesting people. That's the short version.
Education.
After high school, I worked as a web design teacher for almost a year before starting my studies at Chalmers University of Technology here in Göteborg. The life as a student suited me pretty good, especially since it was possible to combine that with athletics. As a result, I stayed in school a little longer then most people do, running a small company alongside.
I started my university studies in 1999 and graduated in 2006 with a Masters of Science (MSc) in Electrical Engineering and another MSc in Informatics specializing in Business Technology. During those years I had a couple of months off while traveling to Australia together with Beatrice in 2002. There's a CV under Work if you're looking for some kind of summary.
Being a dad.
One of the more recent things in our life is our lovely daughter Felicia and our son Hugo. This is me and Felicia when she was a baby.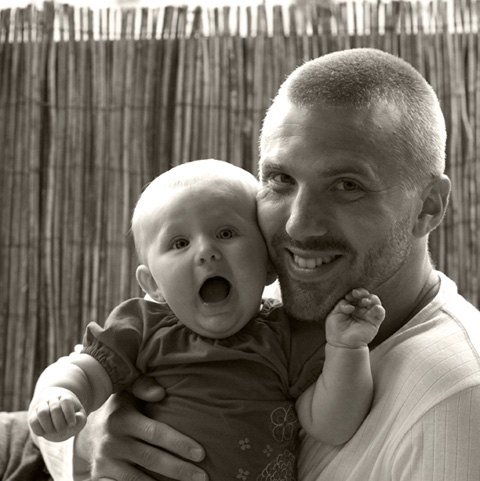 What I do for a living.
Nowadays I'm the Technical director, and one of the partners, running Republic Factory which is a design and technology company here in Göteborg.
My small company Sandin Design is still around, but most workdays are spent at Republic.
At Republic, we develop all kinds of web technology based sites, systems, and applications as well as most types of digital design. We like to be involved in both creative parts like interaction design, graphics design, and usability as well as the more technical development process.
Again, check out Work if you're interested in the details
Traveling.
I really enjoy traveling. I've been to quite a few places and I like to continue to add new ones to the list. When I was living with my parents I've been celebrating Christmas in the Gambia, New Year's Eve on the Cook Islands and enjoyed both summer and winter in Australia. Later, mostly thanks to athletics, I've been to South Africa and most countries in Europe. Beatrice and I have also been fortunate to be able to do two long trips to Australia and back.
I really enjoy living in Göteborg, it's not too big, neither too small, and it's close to most friends and family. And, Sweden is a great country to live in. However, since my family and I got so many friends in Australia it almost feels like a second home. I've been there five or six times already, and I'll be back for sure!