Podcasting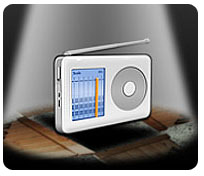 The last weeks I have used my iPod for a little more than music. Since the iTunes music store opened here in Sweden and podcasting was included in the 4.9 version of iTunes I've started to subscribe to a couple of podcasts.
So what is a podcast? Simplified, it's a recorded radio show that is published on the Internet. With a program, called an aggregator, you can download new shows and update your iPod at the same time - so when you walk out the door you got some fresh programs right there in you pocket. Simple as that. For a more in depth description, look at Wikipedias podcasting description since I don't think most of you really care about RSS and the technical stuff.
There are quite a lot of podcasts now and most can be said to discuss a specific subject like news, technology, music, sports and almost every other interests you might have.
Give it a try, download an aggregator or just click on podcasts (sv: podsändningar) in the iTunes music store. It's good. It's also free of charge and adds a new dimension to your portable mp3-player. Because I have realised that sometimes it's pretty relaxing to listen to talk instead of music. I've gathered up some links for your convinience:
Podcasting software, also called aggregators
Some podcasting directories
Some of my favourite podcasts
Adam Curry's The Daily Sourcecode - The man who started it all, or so they say anyway. Interesting and often good music presented by a former MTV employee
Sommar i P1 - Swedish program commonly called Sommarpratarna. Various people every day.
The Mac Geek Gab - news and talk about Apple's products. For the nerd in me…
Included in many of the radio programs is music, and then foremost from independent artists that make their music available to podcasters through the Podsafe Music Network - a network for musicians, podcasters and, I guess, us normal people that like good music.