Indoor season over - looking forward to summer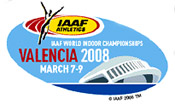 Here's a short summary of the last weeks in English, looking at life from my athletics career's point of view.
The indoor season is over for me and I'm going to enjoy the World Indoor Championships in Valencia on TV next week end before the real spring training starts. My training partner Lena is running the 60m and, as usual, it will be great to see what Sanna, Stefan, Johan and the others are able to do against the best in the world.
Last week was the Swedish Indoor Championships in Malmö. After having a good start of the indoor season, compared to last year, I was really looking forward to the championships. And, after winning 3 medals last year (60m, 200m and 4x200m) I had high hopes of being able to duplicate that this year also. Unfortunately, a hamstring injury three weeks before the championships made it impossible to participate and I was stuck in Göteborg while the others went down south to Malmö.
I'm back on track again (and I ran three sessions in the last five days without any problems) so despite the missed championships I think that this indoor season was an important one for me, since I really enjoyed running again. I've also performed a lot better on most of the physical tests this year compared to last year so hopefully I can use this unplanned break wisely and benefit from it this summer.
Athletics has been really fun again the last months and I really think that this will show in the results this summer. It would be great if I could beat that old 100m PB this year, and go sub 21 in the 200m…
Until then, good luck next week end guys!!